SnapScale X2 Clustered NAS Storage

Infinitely Simple... Infinitely Scalable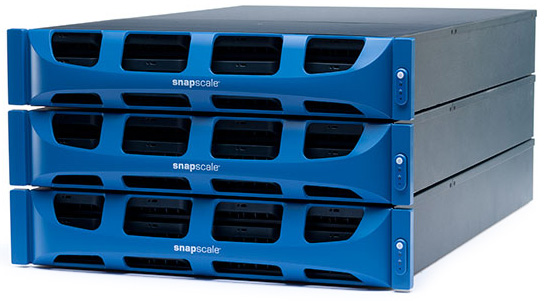 Sorry, this product is no longer available, contact us for the replacement.
SnapScale X2 Overview:
Network Attached Storage has fulfilled many of the traditional IT needs by providing affordable data retention with simple management, and compatibility across multiple platforms. With the convenience and simplicity of Network Attached Storage it is difficult to imagine a business environment today that is not utilizing NAS, however with the explosion of data and the importance of compliance and uptime; traditional scale-up NAS solutions are quickly reaching limits of capacity, redundancy and performance within dynamic IT storage environments.
The SnapScale X2 from Overland Storage is a clustered NAS solution that solves the problems of traditional storage by enabling organizations with rapid or unpredictable data growth to scale capacity and performance infinitely without adding management complexity. Built on Overland Storage RAINcloud™ OS technology, SnapScale eliminates islands of storage, enabling easy and affordable scaling without having to predict capacity in advance. Offering user selectable levels of data redundancy, SnapScale writes data across multiple nodes and drives simultaneously for instant protection and high availability by ensuring no single point of failure ever exists. The SnapScale hardware architecture and "single pane of glass" management creates a consistent user experience while both managing the existing Global Namespace and scaling storage as needed, without additional layers of administration.
While the benefits of SnapScale may be clearly evident for large businesses with petabytes of storage, implementing scalable file serving can be just as important for businesses much earlier in their lifecycle that have yet to encounter serious scaling limitations. By investing in the SnapScale architecture up front, smaller organizations can assure that their file serving infrastructure will grow to meet future needs painlessly and cost-effectively, regardless of how rapidly performance and capacity requirements increase over time.
With This Product You Can...
Expand capacity and performance, as well as redundancy without adding complexity
Manage a large Global Namespace through an intuitive interface
Automate the protection of critical data and ensure no single point of failure
Scale Up or Scale Out by adding drives or nodes to expand capacity in an existing cluster
Highlights:
Expand capacity and performance infinitely
Simple management of large storage capacities
Remote replication between SnapScale clusters or Win/Linux/UNIX servers
Automatic HA failover
Add additional nodes or drives as needed
Hot spares for automatic drive repair
Flexible Volumes
Snapshots
Home Directories
| | |
| --- | --- |
| Form Factor | 2U rackmount (3 X 2U Minimum Cluster Size) |
| System Scalability | NL-SAS: 2TB, 3TB, 4TB | 7200 RPM |
| Drive Types | Up to 12 x NL-SAS drives |
| RAIN Levels | 2-way or 3-way drive redundancy |
| Capabilities | Remote Management, Global Namespace, Flexible Volumes, Snapshots, Replication*, High Availability, High Performance, iSCSI block level access, SNMP, User and Group Quotas, Data Balancer, Spare Distributer, RapidRebuild |
| Support Platforms | |
| Certifications | |
Features:
Intelligent Clustering

Optimize data distribution, protection and performance automatically with the SnapScale Intelligent Clustering features.

Highlights

Optimize performance across your cluster with the data balancer tool that distributes data evenly across drives on nodes
With the spare distributer, rebalance hot-spares within your cluster to automate the distribution of data protection
The RAINcloud OS Alert System notifies the administrator in the event of an optimization event recommendation

Why You Need It...

SnapScale will recommend the best options for optimizing your cluster performance and data protection automatically

Unified Storage

Consolidate your storage by hosting both block and file level data on your SnapScale X2 clustered NAS system.

Highlights

Utilize common networking protocols such as SMB, NFS, HTTP or FTP for file sharing, collaboration and backup
Host database storage and virtualized servers on SnapScale iSCSI
Support your server consolidation and virtualization initiatives

Why You Need It...

Unified Storage allows you to store block and file-based data on a single SnapScale clustered NAS system

Infinitely Scalable… Instantly Available

There are no more size limitations for your storage. Add drives to nodes, or add entire nodes at anytime to increase your Global Namespace capacity. Storage management remains the same no matter how much capacity exists on SnapScale.

Highlights

Expand storage by adding hard drives or entire nodes to the cluster with no downtime
Improve storage utilization with thin provisioning and flexible volume management
Add storage to the Global Namespace without business intervention

Why You Need It...

SnapScale can keep up with your demanding environment with always on, infinitely scalable and instantly available capacity expansion.

Global Namespace

Consolidate your storage by hosting file level data on your SnapScale clustered NAS system. Utilize common networking protocols for file sharing, collaboration, backup and archiving.

Highlights

File level access with CIFS (SMB), NFS, and HTTP, protocols
Create limitless virtual volumes within the Global Namespace that expand as storage is added
Software features allow administrators to manage and monitor usage and capacity

Why You Need It...

Eliminate islands of storage by consolidating with SnapScale and bring management under a single, simple to use and easy to administer interface.

RapidRebuild

Provides fast recovery in the event of a SnapScale cluster drive failure while remaining online and connected to data.

Highlights

Quickly returns the SnapScale cluster to high availability
Reduces the time spent in degraded mode
Minimizes the impact of a drive rebuild to the cluster performance

Why You Need It...

Recovers data to a SnapScale global hotspare in a fraction of the time compared to a traditional RAID rebuild.

High Availability

Protect data from not only the failure of multiple drives, but even the failure of entire nodes with no downtime, offline rebuilding or system slow down.

Highlights

Data is balanced across the cluster to ensure the best performance available
SnapScale nodes protect files automatically when data is written to the Global Namespace
Increased redundancy as nodes are added

Why You Need It...

Eliminate single points of failure with a SnapScale cluster and achieve maximum uptime.

High Performance

Eliminate storage bottlenecks by spreading performance between multiple nodes in a SnapScale cluster. Each node adds processing power, network bandwidth and more hard drives that work in conjunction to increase throughput.

Highlights

Get the benefit of performance improvements as bandwidth, file I/O, processing power and capacity expand with each node
SnapScale automatically balances user connections to continuously optimize throughput
Scale performance and storage capacity simultaneously

Why You Need It...

Simply add additional SnapScale nodes as needed to an existing cluster to accelerate application performance and to keep up with an ever expanding user base, without downtime or tedious data migration.

Replication with SnapEDR™ – Across the Hall or Across the Globe

Prepare for disaster recovery with Snap Enterprise Data Replicator (Snap EDR). With Snap EDR you can automatically replicate files between hundreds of remove SnapServers in a distributed Entperprise, or between SnapScale clusters for true disaster recovery. With SnapEDR you can also replicate between Windows, Linux, UNIX and Macintosh servers. With Snap EDR you can be assured that your files are moved off-site safely and securely.

Highlights

Supports byte-level incremental replication, bandwidth throttling, compression and encryption
Excellent for the distributed Enterprise
Remotely backup servers across the globe, or from cluster to cluster, from a single management interface

Why You Need It...

Securely and efficiently replicate files off-site with Snap Enterprise Data Replicator to protect the world's most important data…yours.

Simple/Intuitive Set-up

Configure a SnapScale cluster with seven easy steps through the intuitive web-based interface.

Highlights

Manage hundreds of petabytes through a local or remote client
Configure your cluster or add storage in just 5 minutes
Keep administrative costs down with the best in class RAINcloud OS interface

Why You Need It...

Now Clustered NAS is easy to configure and the management experience remains simple, no matter how much storage is added.
Deployment:

Technical Specifications:


SnapScale X2 Specifications:
Operating System
RAINcloud OS™3.0
Management
Wizard-based Configuration Volume Usage Statistics, Event Log, Email Notification, Administrator Authentication, Remote Management, Multi-Server Monitoring, and Visualization with SnapServer Manager
Network File Protocols
CIFS (SMB), NFS, HTTP
Snapshots
Included
Replication
Snap EDR™ (optional)
Microsoft Active Directory Support
Included
Form Factor
2U rackmount
CPU and Memory
Intel Quad Core 2.4GHz / 2 X 8GB DDR3 ECC Memory Module
Drive Configuration
Up to 12 x NL-SAS
RAIN Levels
2-way or 3-way drive redundancy
Drive Types Supported
NL-SAS: 2TB, 3TB, 4TB | 7200 RPM
Network Connectivity
4 x 1GbE per node (2 back-end and 2 front-end); or 4 X 10GbE per node with SFP+ connectors (cables and SFP+ transciever modules sold separately)
Minimum back-end network switch requirements
The Ethernet switch used for the back-end storage network has a few basic requirements that the RAINcloud OS depends on. These requirements include compatibility with certain protocols and the ability to expand the cluster without compromising the storage network throughput.

2 switches to provide fault tolerance
Single Gigabit Ethernet interconnect between the switches
Gigabit Ethernet ports
Multicast v1, v2 supported
Bandwidth of internal backplane must be greater than or equal to a total of 1Gbps per port
Layer 2 managed switch
Port count: clusters should endeavor to have enough ports to accommodate the entire cluster. Thus a 23 node cluster could use two 24 port switches and a 47 node cluster could be set up on two 48 port switches.

Individual Node
Minimum 3 Node Cluster
(24 Port Switches not included)
Physical/Mounting
Width: 17.17 in (436.1mm)
Height: 3.36 in. (85.3mm)
Depth: 26.32 in (668.5mm)
Width: 17.17 in (436.1mm)
Height: 10.08 in. (30.24mm) (For rack mounting height dependent on rack & rack post spacing)
Depth: 26.32 in (668.5mm)
Weight
Weight With Drives: 51lbs (23.1 kg) fully populated
Weight without Drives: 38.5 lbs (17.5 kg)
Weight With Drives: 153lbs (69.3 kg) fully populated
Weight without Drives: 115.5 lbs (52.5 kg)
Agency Approvals
cTUVus, CE, VCCI, FCC Class A
cTUVus, CE, VCCI, FCC Class A
Power
Power Rating: 350 W autoranging hot swappable modules (1+1) Redundant 100 - 240 VAC, 50 - 60 Hz 4 - 2 Amps
Power Rating: 1050W autoranging 3 hot swappable modules (1+1) Redundant 100 - 240 VAC, 50 - 60 Hz 12 - 6 Amps
Input Current
Max 4A (RMS) @ 115VAC 2A (RMS) @ 240VAC
Max 12A (RMS) @ 115VAC 6A (RMS) @ 240VAC
Power Consumption
Idle 225W /2Amps (12 HDDs)
Peak 280W 2.5 Amps (12 HDDs)
Heat Dissipation 1370 BTU
Idle 675W /6Amps (12 HDDs)
Peak 840W 7.5 Amps (12 HDDs)
Heat Dissipation 4110 BTU
Environmental Limits
Operating Environment:
Temperature: 50° F to 104° F (10° C to 40° C)
Humidity: 20% to 80% (noncondensing)
Vibration: .5G and 10-300Hz Random for 120 min. max duration
Shock: 6 pulses of 20G half-sine for 2ms all axes, both directions
Altitude: -1000 ft. to 10,000 ft (-305m to 3,048m) 

Non-Operating Environment
Temperature: 14° F to 149° F (-10° C to 65° C)
Humidity: 5% to 95% (noncondensing)
Vibration: 2G at 5-500Hz for 90 min. max duration
Shock: 6 pulses of 20G half-sine for 2ms all axes, both directions
Altitude: -1000 ft. to 35,000 ft (-305m to 10,688m)
Standard Warranty
1-year Overland Care Level 2: 9x5 next business day onsite; next business day advanced parts replacement; 24x7 telephone support; Snap EDR support sold separately
Supported Platforms
Product Views: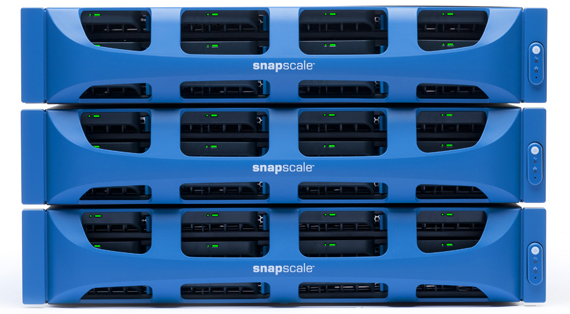 Front View
Rear View

Individual Node View
Comparison Chart:
| | SnapScale X2 | SnapScale X4 |
| --- | --- | --- |
| | | |
| Operating System | RAINcloud OS™4.0 | RAINcloud OS™4.0 |
| Product Summary | Scale-out NAS | High Density Scale-out NAS |
| Best Fit For | Environments requiring high performance, highly scalable storage with a single global namespace for simple management of unstructured data | Improving rack-space storage efficiency and performance for file sharing, consolidation, databases, or virtualized environments |
| Form Factor | 2U | 4U |
| # Drives Supported in Unit | 12 | 36 |
| Supports Expansion Unit | Additional Nodes | Additional Nodes |
| Minimum Configuration | 4-drives | 12-drives |
| RAIN Levels | 2-way or 3-way drive redundancy | 2-way or 3-way drive redundancy |
| Drives Supported | 2TB, 3TB or 4TB NL-SAS | 2TB, 3TB or 4TB NL-SAS |
| Network Connectivity | 1GbE, 10GbE or Mixed | 1GbE, 10GbE or Mixed |
| Included Capabilities | Remote Management, Global Namespace, Flexible Volumes, Snapshots, Replication*, High Availability, High Performance, iSCSI block level access, SNMP, User and Group Quotas, Data Balancer, Spare Distributer, RapidRebuild | Remote Management, Global Namespace, Flexible Volumes, Snapshots, Replication*, High Availability, High Performance, iSCSI block level access, SNMP, User and Group Quotas, Data Balancer, Spare Distributer, RapidRebuild |
| Supported Platforms | Windows, Linux, UNIX, MAC | Windows, Linux, UNIX, MAC |
| Certifications | VMWare, Windows iSCSI | VMWare, Windows iSCSI |