SnapSync

Your Cloud. Your Data. On Your Terms.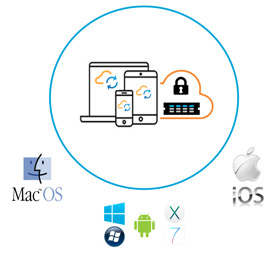 Sorry, this product is no longer available, contact us for the replacement.
Overview:
Enterprise Grade File Sync & Share
SnapSync™ is a simple, secure enterprise-grade, file sync and share solution with unlimited access to content on any device, from anywhere with centralized IT control.
Get data on the go. Secure data access to private confidential data on any mobile device

Collaborate with confidence. Control who gets access to how long and with whom it can be re-shared.

Ensure data availability. Protect against data loss due to failures, lost or stolen devices. Single users, multiple devices.

Features:
Key Features
Data Mobility
Secure data access on mobile devices from enterprise NAS storage Backup data generated on mobile devices
Collaboration
Provide controlled access to peers Upgrade, downgrade or revoke access
Secure
Encrypted in transit
Encrypted while stored (optional)
Granular folder level access control
IT controlled
IT manages access based on business policy enforcement
Data stored on IT managed infrastructure and not uploaded on 3rd party clouds
Business Continuity
Recover data from Snap storage
Recover deleted files
Unlink stolen, lost devices to prevent data loss
Technical Specifications:
Technical Specifications
Endpoints Supported
OS X 10.8 Mountain Lion or newer
Windows 7 or later
iOS 6.0 or newer
Android 2.2 or newer
Storage Supported
SnapServer
SnapCLOUD
Networks Supported
All - WAN, LAN, mobile (3G, 4G, LTE)
Scalability
Unlimited file size
Unlimited amount of storage per user
Mgmt Interface
Integrated in Snap Storage GUI
Ease of Sharing
Emails
Links
QR code
Security
All sync traffic between devices is encrypted with AES 128-bit cypher and a secure key of 20 bytes
Secure Sharing
Expiration deadlines on shared links
Revoke access to future updates
Read only or read write access
Access Control
Folder level granularity
IT and owner user managed access control
Change access permissions at any time
Designate other users as owners
Space Saving
Sync files on demand when you need them, so the precious storage on your mobile device is preserved Disconnect folders
Bandwidth Savings
With Selective Sync turned on, only placeholder files are in your system which means no constant updates over a mobile data network.
Data Protection
File versioning
Deleted file archive
Second copy on Snap Storage device